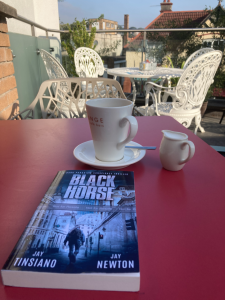 Black Horse (Dark Paradigm #3) is finally here and available to purchase on Amazon Kindle (or via Kindle Unlimited) or online from selected retailers. This comes a mere five or so years since DP#2 – Red Horse, so it has been a very longtime coming.
The good news Pale Horse (DP #4) is available on pre-order for a January 2024 release, so grab that here.
Here's the blurb for Black Horse and the retailer links:
As the clock ticks down to a devastating global event, Zoe Bowen's investigation into her partner's apparent suicide takes her down a dark and dangerous path.

But nothing points to suicide apart from the official verdict.

Zoe digs deeper, unravelling a string of similar suicides that make no sense and a plot to devastate the global food supply. She confides with her brother, Joe Bowen, and together they enlist the help of hacker Haleema Shiraz to infiltrate one of the front financial corporations of the cabal.

What they discover is even more terrifying than anything they could have imagined; that they stand at the edge of an apocalyptic event that will change the world forever.

Zoe and her allies race against time to stop the cabal's devastating endgame before it's too late.

Black Horse is an adrenaline-fuelled page-turner that will captivate fans of conspiracy thrillers and keep them hooked until the end.