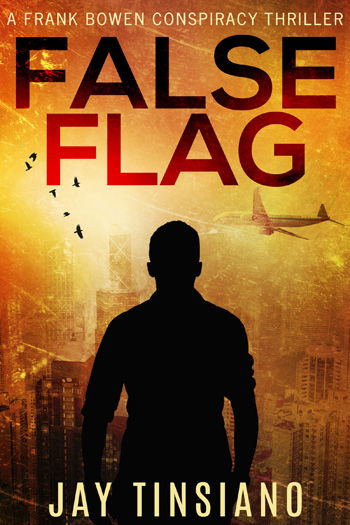 Imprint: Dark Paradigm Publishing
ISBN: 978-1-9997232-2-4
Release Date: 6th January 2018
B&W 5.5 x 8.5 in or 216 x 140 mm (Demy 8vo)
Perfect Bound on Creme w/Matte Lam
Page Count: 176
Retail Price:
UK £8.99, US $14.99, EURO 8.99,
CAN $19.99, AUS $19.99
Order the paperback at
No 1 in the Bowen series
False Flag
False Flag is the first short novel by Jay Tinsiano that kick starts the Bowen series setting up his future involvement with a covert MI6 group .
1991: A plan to destabilise Hong Kong is emerging; the key players are being put into place, the wheels are in motion and innocent people will die.
Frank Bowen is a Londoner on holiday in tropical Thailand. Half drunk and strapped for cash, he's the perfect bait for a political plot that will leave him running for his life, with nowhere to turn.
An international conspiracy thriller by Jay Tinsiano, False Flag spans South-east Asia, with twists and turns that leave every character in question.
False Flag, is now available as an audiobook, narrated by Audio File Magazine earphones award winner Chris MacDonnell.
This has been a really interesting project; to hear my writing coming to life in audiobook form is really exciting.
Narrator, Chris MacDonnell, is a leading British Actor and Voice Talent with credits including West-End and The Royal National Theatre. He's also featured in British and US TV shows, BBC radio-drama and a winner of Audio File Magazine earphones award March 2015. It has been a pleasure to work with a true professional.