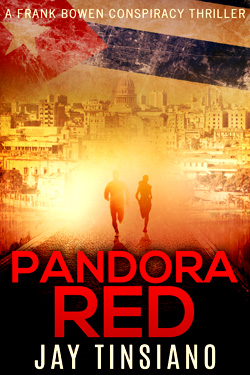 Imprint: Dark Paradigm Publishing
ISBN: 978-1-9997232-3-1
B&W 5.5 x 8.5 in or 216 x 140 mm (Demy 8vo)
Perfect Bound on Creme w/Matte Lam
Page count: 290
Retail Pricing:
UK £11.99 , US $14.99,
EURO 10.99, CAN $19.99, AUS $19.99.
Order the paperback at
No 2 in the Bowen series
Pandora Red
Ghost Order, the third book in the Frank Bowen Conspiracy Thriller series is finally up online for pre-order.
The ebook is available wide and outlets will be added to the following link over the next few weeks.
Here's the blurb, followed by the story behind Ghost Order!
Frank Bowen attempts to piece together a fractured life at home but finds himself pulled back into the dark state once again.
Only, this time, he's playing both sides.
Hired by John Rhodes, founding father of the Liberatus movement, his mission is to escort a valuable asset to South America. Then the spectre of Carl Paterson emerges and Frank finds he has to work once again with his old agency, Ghost 13.
Later, in the depths of the Colombian Darien Gap jungle – swarming with narcos, paramilitary groups and bandits – Frank finds death and evil wait around every corner in the most inhospitable place on earth.
This is the third fast-paced thriller in the Frank Bowen series by Jay Tinsiano
Pandora Red is also available as an Audiobook, narrated by Chris MacDonnell, a leading British Actor and Voice Talent with 37 years experience and a winner of Audio File Magazine earphones awards March 2015.