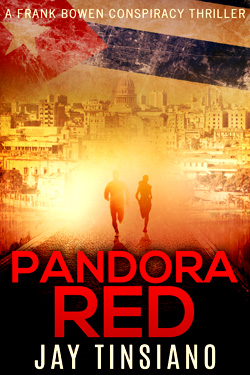 Imprint: Dark Paradigm Publishing
ISBN: 978-1-9997232-3-1
B&W 5.5 x 8.5 in or 216 x 140 mm (Demy 8vo)
Perfect Bound on Creme w/Matte Lam
Page count: 290
Retail Pricing:
UK £11.99 , US $14.99,
EURO 10.99, CAN $19.99, AUS $19.99.
Order the paperback at
No 2 in the Bowen series
Pandora Red
Frank Bowen's mission is to find a GCHQ whistleblower but in doing so unwittingly risks everything, including his own family's safety.
As part of a covert team, assigned to dangerous missions, Bowen believes he knows what he's up against, until a team of Russian mercenaries are thrown into the mix, leaving everyone and everything hanging in the balance.
It's a race against the clock to save all that he holds dear and uncover the dark truths behind his mission.
Pandora Red is a gripping, fast-paced thriller that will keep you turning the pages throughout.
Pandora Red is also available as an Audiobook, narrated by Chris MacDonnell, a leading British Actor and Voice Talent with 37 years experience and a winner of Audio File Magazine earphones awards March 2015.