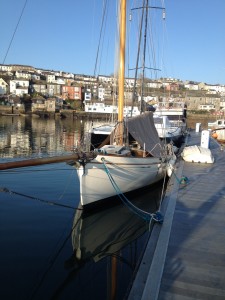 I am currently in Falmouth, Cornwall staying on a small yacht in the beautiful marina here. (You gotta love Air BnB). It's been a great experience to say the least and has certainly provided writing inspiration.
Also after a few days of really cold grey grimness today the sun is out and it feels like spring- so happy days y'all. The distant sound of seagulls, creaking of the haul and lapping of the waves is definitely a more civilized way to wake up in the morning.
I've been gagging for a break for ages to try and nail this next book, so hopefully I will get some words down while I'm here. Tomorrow I head over to St.Ives (also in Cornwall) to meet up with collaborative partner, Jay N to create the beats for the finale of White Horse. So close now, so close.
In other News…
Pandora Red: Deleted Scenes recently dropped for Patreons and if you're a newsletter subscriber there's a link coming your way.
This is a short collection of chapters that were either deleted from the final version of Pandora Red or amended in some way. It's a short read and offers, in some cases an alternative look at Frank Bowen's world in Pandora Red and what could have been.
I'm debating whether to put this at the back of the book in future editions. We shall see.
And if you have not read Pandora Red and looking for a fast paced page turning roller coaster there is a Goodreads Giveaway happening right now. WIN a signed paperback copy by entering here…
Till next time…