I recently attended the Self Publishing Show in London and had the privilege to have White Horse picked to have a a Tony Hart-style makeover from Stuart Bache (Books Covered).
Stuart has designed covers for prominent name authors such as John le Carré and Stephen King as well as a cluster of indie stars such as Mark Dawson, Adam Croft, LJ Ross, and Craig Martelle.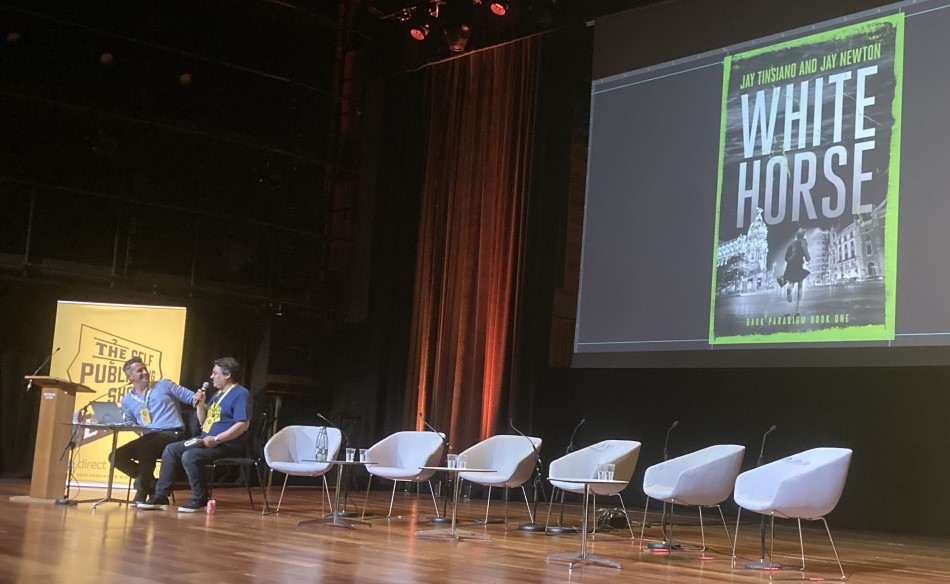 The guinea pig was our thriller book, White Horse (Dark Paradigm #1) by Jay Tinsiano and Jay Newton. We feel the current and original cover doesn't convey that book's genre (action/thriller) although it does hint at the occult driven apocalyptic narrative revealed throughout the series.
The session gave the 800 plus gathered indie authors and publishers a demonstration of the cover design process. No easy feat inside an hour while answering audience questions. However, Stuart did a sterling job and used his immense skills to create a stunning cover.
We really hope to work with Stuart for a relaunch of this Apocalyptic Thriller quadrilogy.
A meeting of author minds was long overdue; and this conference didn't disappoint. It was a superb opportunity to hear inspirational and informative presentations from Indie authors and publishers and meet other authors. The latter is particularly important to me and many others after two years of restrictions.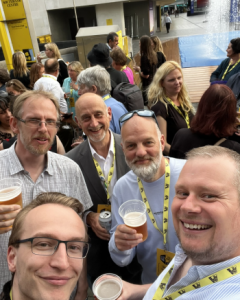 Day 1 ended with a break that allowed time for dinner and freshening up before a party in the foyer. There were complimentary drinks to get into the spirit, and a band provided the music to get things rolling. Groups of authors did move on to pubs and bars after the close. This was, after all, London.
Other talks and panels included Joanna Penn's The Creator Economy, Non-fiction: Failure to Fortune with Mark Reklau, Amazon Ads Targeting with Jane Margot, Big Data Unleashed by Alex Newton among many others over the two days.