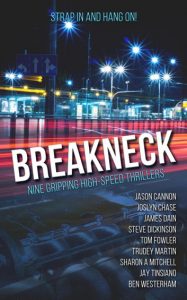 I've got a brand new story in a new Crime and Thriller anthology called Breakneck! My thriller short is called Extraction Day, set in the Dark Paradigm world.
Breakneck also features shorts by Jason Cannon, Joslyn Chase, James Dain, Steve Dickinson, Tom Fowler, Trudey Martin, Sharon A Mitchell, and Ben Westerham.
Strap in and hang on!
Diverse, entertaining, and wonderfully fast-paced! These thrilling tales showcase the talents of nine superb suspense writers you'll love meeting.
A lone man braves the wilds of Alaska to save a town from brutal annihilation.
A grocery shopper intervenes in a store shooting and gets more than he bargained for.
A retired Army cop goes up against a cold-blooded killer to exonerate his own name and close a murder case.
And more. Lots more.
Get your pulse tingling with these short story gems. Strap in and hang on—it's Breakneck time!