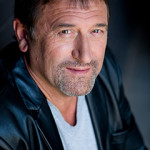 Great News! Audio File Magazine earphones award winner Chris MacDonnell, narrator of False Flag, has agreed to return for the Pandora Red audiobook and is working on it right now in his studio in LA. It's sounding damn good so far.
Chris is is a leading British Actor and Voice Talent with credits including West-End and The Royal National Theatre. He's also featured in British and US TV shows and BBC radio-drama.
Scheduled release is Summer 2016.