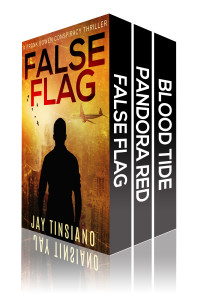 The 99 Degrees Thriller boxset is now available across all platforms.
99 Degrees collects my current collection of books into one bundle and works out 40% cheaper (at the time of writing) than buying each book individually.
Book 1. False Flag (A Frank Bowen conspiracy thriller Book 1)
An international conspiracy thriller by Jay Tinsiano, False Flag spans South-east Asia, with twists and turns that leave every character in question.
Book 2. Pandora Red (Frank Bowen Conspiracy Thriller Book 2)
As part of a covert team, assigned to dangerous missions, Bowen believes he knows what he's up against, until a team of Russian mercenaries are thrown into the mix, leaving everyone and everything hanging in the balance.
Book 3. Blood Tide (A Doug Brown Terrorism Thriller)
Detective Douglas Brown transferred to Hong Kong to forget his past and the dark memory that still haunts him; Richard Blythe. Blood Tide is a gripping stand alone terrorism thriller set in Hong Kong.