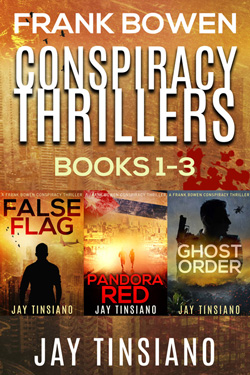 January 11th sees the release of a mass-market 2020 edition of the Frank Bowen Conspiracy series omnibus.
If you've been waiting to get a paperback version now's a good time to ask your bookstore.
Here's the blurb:
Enter the humidity, feel the cold steel.
Frank Bowen is pulled into a conspiracy that will change his life forever
and throw him neck-deep into the dark world of espionage, murder and terrorism.
The first three thrillers in the Frank Bowen Conspiracy Thriller series collected in one gripping volume.: False Flag, Pandora Red and Ghost Order.
ISBN/SKU: 9781916239715
ISBN Complete:978-1-9162397-1-5
Order at:
Barnes and Noble US | Waterstones (UK) | Amazon