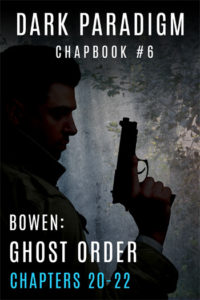 Dark Paradigm Chapbook #6 with Ghost Order chapters 20-22 is on Patreon.
In Panama, Frank and Nero consider their options on how to continue after their recent run-ins with unknown assailants. They head to the tiny village of Puerto Obaldia, in the Kuna Yala indigenous region of Panama.
However, a ruthless Colombian paramilitary unit awaits their arrival…
Support my writing on Patreon from just $1 a month. $2 gets you the monthly chapbooks as a book develops and for $5 you also get the occasional short story and other goodies…
Thank you!